One little piggy had a house of straw, the other a house of sticks, and finally came the indestructible house of bricks. The little piglets we grew up adoring learned an important lesson from their encounter with the big bad wolf – the bones of a structure matter. A well built home has a strong foundation, constructed to weather the elements and the passage of time. Nursery rhymes if nothing else are meant to teach us applicable life lessons, and thanks to the smartest of the piglets we can learn a valuable lesson about the scaffold of our bodies.
Much like the beams and planks that make up a solid structure, healthy bones support the human body.
Bones not only provide a framework for our bodies, but also play a vital role in the protection of internal organs, movement, and storage of important minerals. Osteoporosis in the human skeletal system can be thought of as the termites or water damage in the framework of a building, compromising the integrity of the structure and impairing our way of life. Just as a home requires ongoing maintenance to keep it in tip-top shape, so does the human body. That's where we come in!
According to the National Osteoporosis Foundation, 54 million Americans have osteoporosis, which puts them at a higher risk for fractures and falls. They also state that the disease is responsible for as many as two million broken bones per year! That's a lot of termite damage. Though genetics do play a part in the susceptibility of osteoporosis, certain lifestyle choices can reverse the onset of bone loss. Let's go over a few things that you can control to keep your framework's structural integrity. Though genetics do play a part in the susceptibility of osteoporosis, certain lifestyle choices can reverse the onset of bone loss.
1.  Be mindful of your intake.
Filling your plate with dark leafy greens rich in calcium and vitamin K provides essential minerals to help increase bone density. Other foods high in calcium include broccoli, edamame, nuts, beans, and certain fruits like oranges. In addition, dairy products such as milk, yogurt, and cheese contain high levels of calcium. Also be sure to get an adequate amount of Vitamin D, which facilitates your body's absorption of calcium. Time for some fun in the sun!
2.  Maintenance is key.
Staying active can effectively increase bone density. Weight-bearing exercises make your bones and muscles work against gravity and therefore strengthen them. So hop on a stair climber, take a couple extra walks around the block, or visit the tennis court to hit a few balls. Resistance training can also help individuals maintain balance and reduce the risk of falls.

3.  Call the professionals.
When you've been diagnosed with osteoporosis or are considered high-risk due to genetics, consult expert advice from your doctor and a physical therapist. Would you try to fix your roof if it was caving in, or tackle a massive plumbing problem by yourself? Most likely not, you'd call in the experts! Lucky for you the team as SOL can establish a tailored treatment plan to help you improve your balance, posture, strength, and flexibility, ultimately reducing your risk of potential falls and fractures.
While these tips can be helpful if you've already been diagnosed with osteoporosis, it definitely doesn't hurt to be proactive! Don't end up like the first two little pigs that lost their houses due to poor planning; instead be mindful and purposeful about how you treat your body. After all, it's the only one you've got!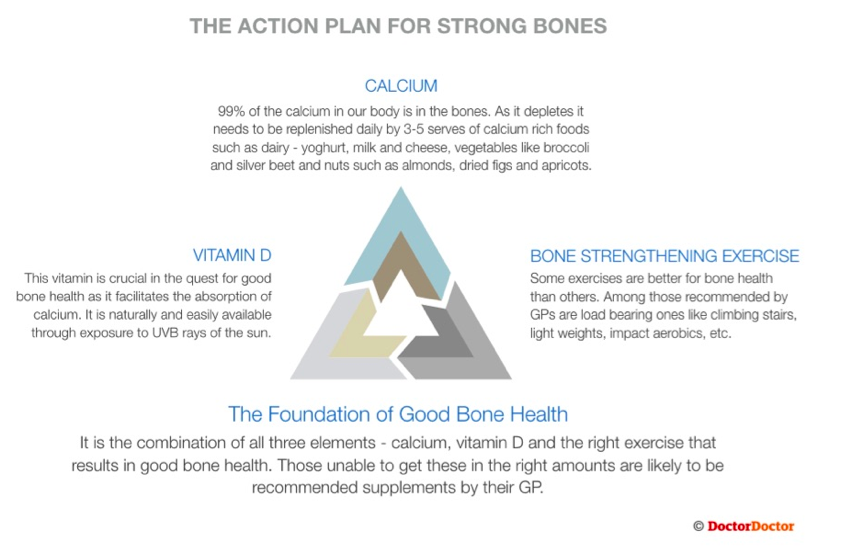 REFERENCES:
American Bone Health: Exercise Right To Prevent Fractures;
Bone Health and Osteoporosis: Bone Density Testing Explained