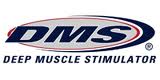 When you experience muscle pain, you can attribute it to one or more of a variety of conditions: strains, the build-up of lactic acid, scar tissue, and so on. Once the source of your pain or limitation is identified, one tool offers the physical therapists at SOL the option to use rapid percussion vibrations to both relieve pain and relax the muscle: the Deep Muscle Stimulator (DMS).
How it works
The DMS provides deep muscle tissue with kinetic forms of deep, rapid, short-duration percussion vibration, which allows the client, patient or athlete experience a number of benefits: pain relief, increased circulation and lymphatic flow, the break-up of muscular scar tissue, soft tissue release and regeneration, and reduced lactic acid build-up. This, in turn, increases recovery, allowing you to maintain your active lifestyle.
The DMS can also be effective in managing acute and chronic pain from tendonitis, bursitis, edema, frozen joints, carpal tunnel syndrome, and even migraines.
Getting started
To learn more about how the DMS can be effectively utilized to reduce pain and muscular limitations in your life, contact SOL online or at (510) 547-1630.