On a whim, our Client Experiences Coordinator signed up for the Olympic Length Oakland Triathlon. Almost completely deconditioned, she's going to rely on the expertise of her coworkers at SOL and the guidance of the Oakland Triathlon Club's 16 week training program to get to August 29th in one piece.
One common theme that unites all SOL Employees is our collective love for movement. Literally everyone (founders, therapists, coaches, administrative staff, aides, everyone!) has deep love for movement in their lives.
As SOL's client experiences coordinator, I am no exception to that rule. I love to bike long distances, trail run, swim, and occasionally toss a softball around.
But.
I have a rocky relationship with movement. In the hustle and bustle of my life, when things get crazy and I go into survival or high-productivity mode, my motivation to exercise is the first thing that plummets. Usually in spectacular fashion.
Spectacular like 1 workout every 20 days spectacular.
On April 17th, it had been 27 days since my last workout. In the 33 days previous to that? I had done 3 whole workouts totaling about 3 hours of activity. Although I'm usually a super-planner, the reality of having only done 3 workouts in 60 days spurred me to do something atypically impulsive.
I surfed on over to the Oakland Triathlon Festival website, quickly compared the two different distances, and before thinking or giving myself a chance to reconsider … I whipped out my credit card and registered for an Olympic length triathlon.
How long is an Olympic Triathlon?
1.5K of swimming + 40K of biking + 10k of running.
All at once. No breaks.
It was only when the registration email sailed into my inbox that the reality of my decision began to sink in. I had done 3 (Count 'em. 3.) workouts in 60 days. … I was so out of shape that I would get winded and break into a sweat walking up the two flights of stairs from my apartment to my car. … My only bike is a first generation 30 pound monstrosity of a thing. How on earth was I going to pull this off?
After the glory of the impetuous decision wore off, I started to get lightweight terrified.
To deal with my terror, I decided to inform the most athletic group of people I know of my decision. At a SOLPT staff meeting I announced the following:
"So … I signed up for the Oakland Olympic Triathlon. I've never done something like this before, all my gear is hella busted, and I have no idea what I'm doing. Any and all help is seriously welcome."
Help came immediately.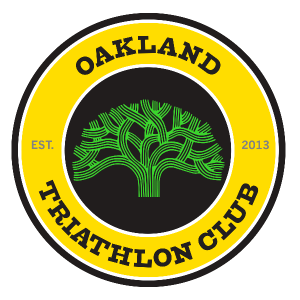 Tammara (SOLPT's founder and 4 time Iron Man finisher) told me she had just found the Oakland Triathlon Club (OTC). After 10 years of putting her passion for triathlon on hold to build SOLPT, Tammara told me she was making her triumphant return to the sport. She had just joined OTC to help her get there.
In addition to letting me know she was 100% down to help me train along the way, she encouraged me to sign up for OTC so I'd have all the support I needed to really kill my first-ever triathlon.
I looked up OTC, and found out they were having an information session that weekend to discuss what their 16 week Oakland Tri Training program had to offer.
OTC's information session turned my lightweight terror into fierce determination.
I attended OTC's information session on April 25th, and Chris Vanluen (OTC's Founder) came correct with a full information packet, some seriously insightful advice to share regarding triathlon success, and described all the benefits of training with the OTC community. I was also stoked to hear OTC had set up a day-by-day training program we could access using TrainingPeaks.
After just an hour, my terror at what I had done was replaced with motivation to get up, get out, and start training. I wanted to make it launch day with some data on how much work I really needed to do to beat that guy whose job it is to say the following to folks who are lagging: "Sorry bro, we've gotta shut down the course. You can't keep racing."
In the weeks leading up to today, not only have I started moving again, but I have some pretty awesome baseline data.
On separate days, I:
Swam a 1.5 K in a pool and clocked in at about 40 minutes.
Biked 30 Miles to my nephew's 1st birthday party, and clocked in at an average of 12 miles per hour.
Ran 3 miles for an average of 11 minute miles.
If I were to rock the Oakland Triathlon right now, it would take me about 4 hours to complete the course. (This is assuming that I would be able to keep up the pace I logged in those three workouts.)
All I have to do now is figure out:
How to move for four straight hours without dying.
How to train for 16 straight weeks without getting injured.
With OTC and SOLPT helping me out, I actually feel like this is something I can tackle!
Are you participating in the Oakland Triathlon?  Need some motivation for your training? Want to give me some pro-tips of your own?
Like SOL on Facebook and follow SOL on Twitter.
I'll be posting my workouts, asking for your help, and posting any and all resources I gain from chatting with SOL staff and the awesome folks at OTC!!